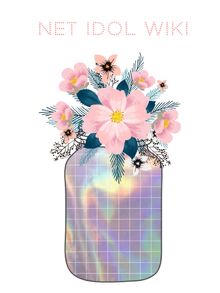 Welcome to the Net Idol Wiki! Edit
Welcome to the Net Idol Wiki! We are the official source of information for all Net Idols. Here, you can find out plenty of information about your favourite groups and perhaps discover some new ones along the way!
We hope you enjoy your experience on the Wiki and if there are any issues, please make sure to inform someone.
This Wiki has been inactive for quite some time, other than the updating of the DARE page, but we hope to change that! Please give it a chance and add or update your groups page! Together we can make this community thrive! But we can't do it without you, so please spread awareness that yes, in fact, this Wiki is still here and it can become a useful and fun resource if everyone puts in just a tiny bit of work or takes a moment to read up about a group they like. We can do it!
What are Net Idols? Edit
Net Idols are groups of online users on various social media sites that create characters to produce idol-like content and/or to compete in many diverse competitions inspired by real life idols. Net Idol competitions and content include art, singing, dancing, story making, and much more! It's easy enough to create your own Net Idol group! All you need is a splash of creativity and some friends! Or maybe you don't~ Solo Net Idols, although rare, are out there! And even if they weren't, why not be the first?
Below are the links to the list of Net Idol competitions and Net Idol groups! Check them out!
A note to all groups adding themselves to the Wiki: please don't forget to add the link to your group's page in our list! Although this Wiki is mostly for English-speaking Net Idols, feel free to add yourselves no matter what!
Important Notices
Edit
Latest Activities
Edit
Photos and videos are a great way to add visuals to your wiki. Find videos about your topic by exploring Fandom's Video Library.
Community content is available under
CC-BY-SA
unless otherwise noted.